It's National Non-Fiction November and a great time to share the amazing non-fiction books that bring the world we live in to life! Perfect for readers young and old to share, learn about all manner of brilliant subjects and just enjoy fantastic books.
The National Trust Children's Almanac 2019  by Anna Wilson illustrated by Elly Jahnz  is a beautifully written and illustrated month-by-month journey through the seasons.  Featuring everything from animal behaviour guides to seasonal recipes to activity ideas, this is a really delightful book to inspire even the most reluctant of young explorers to step outside. The author has taken great trouble to bring lots of interesting information together and show ways of being creative.  Accompanied by bright and colourful artwork, this is also a wonderful debut book for illustrator Elly Jahnz.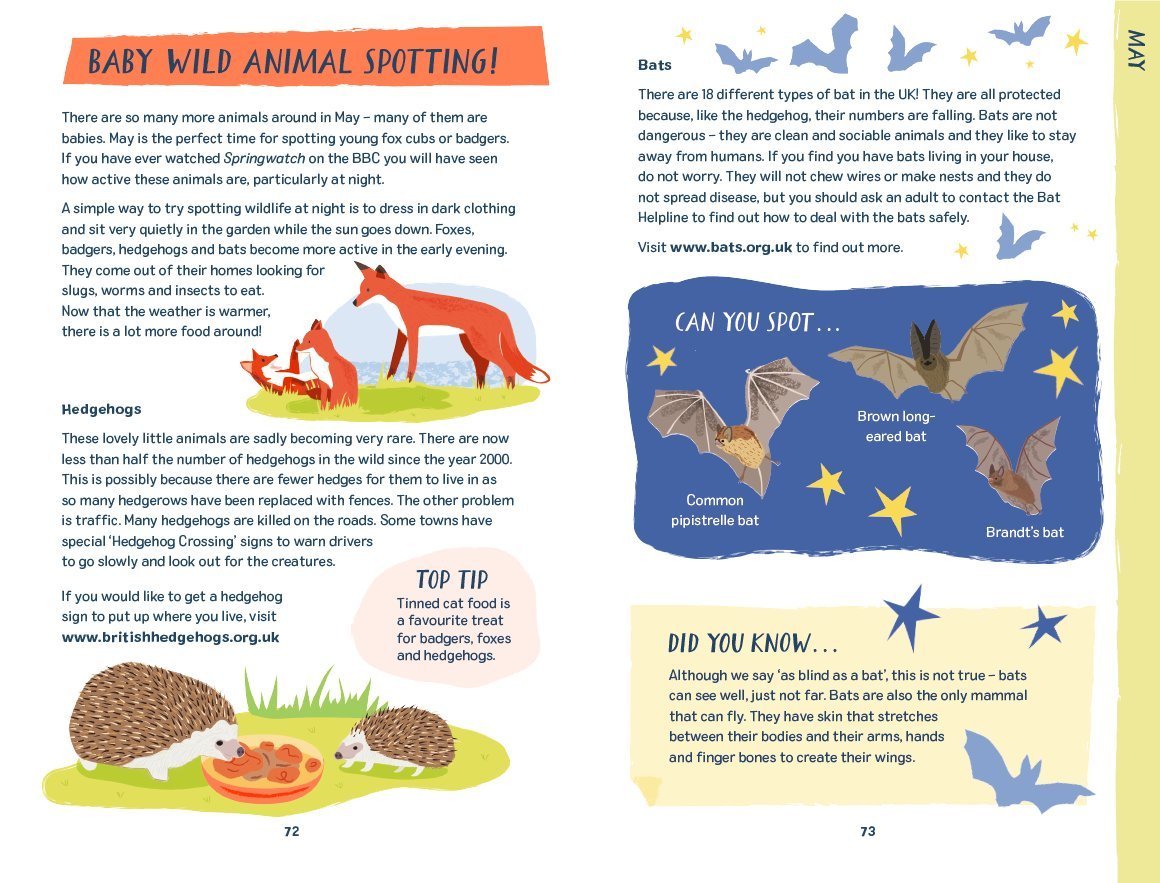 I absolutely loved the activities, helpful top tips and that readers can make notes if they want to at the end of the book.  Each month includes special days to note at the start and highlights anniversaries of historical events such as the first moon landing or the Great Fire of London. The Children's Alamanac would make a perfect gift and wonderful book to share, encouraging family outings and ways to discover new things about the world around us. Published as part of Nosy Crow's ongoing partnership with The National Trust,  this is definitely one to add to the Christmas list!
Find out more at www.nosycrow.com and www.nationaltrust.org.uk
Sleep by Kate Prendergast, published by Old Barn Books, is a beautiful picture book looking at the sleeping habits of animals through stunning illustrations and simple facts.  I can't imagine anyone seeing the book's front cover and not wanting to pick it up! With a gentle narrative, each page describes how the animals sleep, some with extra footnotes to add different facts. The illustrations are quite amazing bringing to life the sleeping inhabitants of the book and showing their various habitats.
Young readers will love identifying the different animals and habitats. The last spread introduces the idea of dreaming and in the final pages there are additional fascinating facts with web links to connect to online information should you wish to find out more.
This is a really lovely book to introduce the animal kingdom to young readers and perhaps great to read at bedtime, encouraging even the most restless of little ones that everyone goes to sleep!
Find out more at www.kateprendergast.co.uk
Secret Science The Amazing World Beyond Your Eyes by Dara O'Briain illustrated by Dan Bramall explores the incredible science behind everyday life with Dara O'Briain's trademark humour, bringing to life even the most complicated scientific facts from molecules to neurotransmitters.
If you've ever enjoyed Dara O'Briain's stand up shows, then you'll know the hilarious observations he makes and his brilliant use of emphasis. This translates brilliantly for kids into a very funny and totally inspired book.  Secret Science will have you laughing out loud as you discover all manner of weird and wonderful facts about things such as KILLER RAYS FROM SPACE (the Sun) to the 'sphenopalatine ganglioneuralgia' (BRAIN FREEZE).
Lively illustrations and larger than life graphics capture both the science and the humour perfectly showing us that it really is everywhere and ensuring readers will be utterly fascinated – as well as hugely entertained.  Published by Scholastic, Secret Science is great for all the family and a wonderful initiation in all things science!
Find out more at www.scholastic.co.uk
Absolutely Everything A History of East, Dinosaurs, Rulers, Robots and things too numerous to mention by Christopher Lloyd is a beautifully presented book taking readers aged 9 and up on a journey through everything from the beginning of time to the present day.  Each chapter covers a specific time period  but connects the various eras within that time frame rather than separating them.  I enjoyed the inviting narrative style which enables you to see how history, science and nature connect. This is definitely a book for confident readers but one that could be shared and enjoyed by the whole family.  It has an index and a glossary so you can navigate more easily. Colourful and bold illustrations, alongside images of historical artefacts and locations bring many of the fascinating facts to life. It is a really informative book, that will challenge young historians to think differently.
The publication of Absolutely Everything is part of a wider campaign to connect knowledge and raise awareness of the value of a more cross-curricular approach to teaching and learning.  Having invited Christopher Lloyd to perform his What on Earth workshops in schools I have worked in, his passion for this is evident and I loved how he brought history, science, technology, literature and sport to life in just one hour!  As did the children!  Christopher's belief is that "only by connecting knowledge back together again can children learn to think out of the box, develop critical thinking skills and become their own self-learning systems."
Find out more at www.whatonearthbooks.com
With thanks to Old Barn Books, Nosy Crow, Scholastic and What on Earth Books for sending me this titles to review!