I will admit to having been rather caught up reading through the fabulous Branford Boase Longlist 2020 (no complaints – I'm over the moon to be on the judging panel this year!), hence a lack of reviews of the other brilliant books I've read over the last few months. What better day to catch up than on World Book Day, when we're all sharing stories? ! Read on for a wonderful array of children's books – Happy World Book Day!   
Picture Books
Hop on board and take a trip through the train tunnels of ten cities around the world! Discover what makes each subway system unique and then see if you can spot the things hiding in the pictures.  From a pillar box in London to a bento box in Tokyo, you'll learn about cities and trains from all corners of the planet.
Underground by Uijung Kim is a gorgeous celebration of subway systems from around the world.  Aimed at young readers and a great non-fiction book to share, Underground is a brilliantly combined lift-the-flap and search-and-find book. Full of bright, contemporary and colourful illustrations, it gives fantastic insight into what you might find on subways from New York City to Seoul to Paris and London.  I absolutely loved the artwork and can imagine young readers (and their parents and carers!) would spend hours pouring over each spread again and again.
Uijung Kim is a Korean illustrator living and working in New York. Her gorgeous cartoon-style is deeply rooted in Korean culture. For more information about Uijung Kim, please visit her website.
With thanks to Cicada Press for sending me this book to review.
Sneakers for cheetahs, scarves for giraffes and perfumed pants for skunks – Moose and Mr Brown can design anything for anyone.  But can they track down Monty, Moose's missing brother? He got on the wrong plane leaving Alaska and hasn't been seen since…
The Adventures of Moose and Mr Brown by Paul Smith illustrations by Sam Usher is a lovely tale telling the story of Moose, Mr Brown and the search for Moose's brother Monty who seems to have disappeared.  Adventure ensues as Mr Brown and Moose travel the globe looking for Monty, all the while solving lots of design problems – like scarves for giraffes, dungerees for kangeroos and even a bib for a spitting cobra.  It's a full of fun and heart warming story, brought to life with lively, detailed illustrations capturing all the ideas and inspiration throughout. A great story to read aloud and share.
Paul Smith is one of Britain's foremost designers. He is renowned for his creative spirit, which combines tradition and modernity. Sam Usher is well known for his multi-award shortlisted book Can You See Sassoon?  and popular seasonal picture book series – Snow, Rain, Storm and Sun. Find out more at www.paulsmith.com and www.samusher.com.
With thanks to Pavilion Books for sending me this book to review.
A wolf who makes chocolates? When a new chocolate shop opens in town, Mrs Chicken and the animals are very suspicious. It must be a trap – that Ferocious Wolf is surely scheming to eat them all up! Or is he….?
The Ferocious Chocolate Wolf by Lizzie Finlay is a delightful story about a wolf who just wants to share his love of chocolate – and is not interested in eating any animals at all! An engaging narrative and lovely illustrations tell how Ferocious the Wolf opens his own chocolate shop full of treats and only one brave piggy will be his customer.  Piggy is so excited by the yummy chocolates that he offers to help Ferocious get some more customers.  With a wonderful sentiment about friendship and acceptance, The Chocolate Wolf will delight young readers as one by one the animals discover Ferocious really doesn't live up to his name and really does make wonderful chocolates!
Lizzie Finlay is a best-selling author-illustrator. Her debut book 'Dandylion', won the Dundee Picture Book Award and was shortlisted for the NASEN Children's Book Award. Find out more at www.tallbean.co.uk
With thanks to Five Quills for sending me this book to review.
When Handa has a sleepover with her friend Akeyo, the girls are allowed to spend the night in a little hut near the house. They're excited to be on their own, but as they get ready for bed, Handa feels more and more nervous. She keeps hearing things – strange snorts, chitter chattering, a big thud……
Handa's Noisy Night by Eileen Browne follows more of Handa's adventures, over 25 years after her first story Handa's Surprise was published . Rich and vibrant artwork brings to life the simple and very humorous story, as Handa has a sleepover in a hut with her friend Akeyo and they hear lots of strange noises in the night.  Every time there is a squeak, snort or rustle, Akeyo explains it's one of her family members, putting Handa's mind at rest– but it's not! It's a wonderful array of incredible wildlife going about their nightly business, as each spread shows exactly what it going on, despite Akeyo's explanation. You will smile throughout as you join Handa and friends again and introduce young readers to the wonder of Kenyan wildlife and the excitement and nerves of sleeping in a different place!
Eileen Browne is the author and illustrator of Handa's Surprise and Handa's Hen, the two previous best-selling books featuring Handa. Eileen worked as a teacher and youth worker before becoming and author/illustrator. Find out more at www.walker.co.uk.
With thanks to Walker Books for sending me this book to review.
This is the story of a bird that fits in your hand flying halfway round the world looking for a place to nest. This is the story of a young girl from northern Africa fleeing halfway round the world looking for a place of peace.  This is the story of Bird. This is the story of Leila. This is the story of a chance encounter and a long journey home.
Boundless Sky by Amanda Addison and Manuela Adreani is a simply stunning story representing the journey of a refugee. The story uses the migration of a beautiful swallow to depict just how far refugees travel to get to safety, how long and dangerous the journey can be, and how the help and welcome of others is so needed. Two young children thousands of miles apart are brought together, with the bird showing how this happens. Beautifully illustrated and truly tugging at your heart strings, Boundless Sky evokes empathy and understanding and is one of the best stories I've read showing the plight of refugees in a totally original way.
Amanda Addison holds an MA in Writing the Visual and lectures in Art and Creative Writing and has previously been long-listed for the Commonword and Virginia Prize. Manuela Adreani is a children's book illustrator from Italy whose books have been published worldwide. She has previously been nominated for the Kate Greenaway Medal. Find out more at www.amandaaddison.com and www.manuelaadreani.blogspot.com
With thanks to Lantana Publishing for sending me this book to review.
My mum works really hard and knows lots of fun things to do that don't cost money. But when there's nothing left in the cupboards we have to go to the foodbank. Maybe one day things will be different….
It's a No Money Day by Kate Milner is an utterly moving story focusing on a mother and daughter who live in poverty and have to rely on the kindness of others.  It's a simple narrative with muted illustrations bringing to life what it means to live without enough money to buy food.  You can see the mother's sacrifice on her face; the 'maybe one day' hope that she shares with her daughter to keep them going is heart-wrenching – and heart-warming. But there is hope and this story shines a light on the brilliant work those who run food banks do and, sadly, how important and much needed they are.
Kate Milner is an award-winning author-illustrator whose previous title My Name is Not Refugee won the Klaus Flugge Prize. Find out more about at www.katemilner.com
With thanks to Barrington Stoke for sending me this book to review.
Illustrated Fiction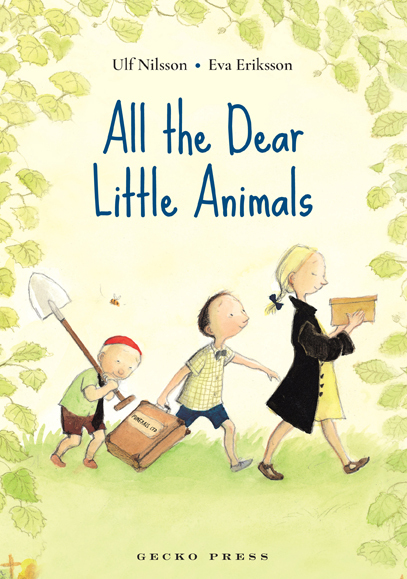 One summer's day we started a business called Funerals Ltd, to help all the poor dead animals in the world. Esther did the digging, I wrote the poems, and Esther's little brother, Puttie, cried.
All the Dear Little Animals by Ulk Nilsson illustrated by Eva Eriksson is the sweetest story about three children who decide someone must bury all the world's poor dead animals. Originally published as a picture book, this illustrated chapter book version shows a child's perspective of death through play. Light-hearted but not without depth, the gorgeous illustrations complement the simple narrative and dry humour, giving a glimpse into how children view death and mourning.  A beautifully presented book for every bookshelf.
Ulf Nilsson is a celebrated award-winning children's writer from Sweden and wrote the internationally acclaimed series Detective Gordon for children. Eva Eriksson is one of the world's great illustrators having one the Astrid Lindgren Prize and been nominated regularly for the Hans Christian Andersen Award.
With thanks to Gecko Press for sending me this book to review.
When Mum goes away for the week, Jams, Dad and Thimble the monkey are left with just thirty quid for the groceries. Dad makes a shopping list, but when Thimble gets hold of the supermarket trolley, everything goes bananas. Soon the intrepid trio are so desperate they will do anything for money … anything! Will Dad end up selling his soul to make ends meet, or can Jams and his monkey pal save the day?
Thimble Wonga Bonkers by Jon Blake and illustrated Martin Chatterton reunites readers with Jams and his friend Thimble the monkey in another hilarious instalment of this addictive, award-winning series.  The now-trademark humour and one liners skip along with the story, and readers will laugh out loud as Jams' hapless Dad and Thimble need rescuing after many unfortunate incidents. A story guaranteed to make you smile and with great illustrations bringing the adventures – or should I say 'misadventures' – to life!
Jon Blake lives in Cardiff and two children, one of whom he based Jams' character on, and has been writing since 1984 – books, TV and radio scripts.  Martin Chatterton has illustrated many books in the UK and Australia, including some of the Middle School books with James Patterson. Find out more at www.jonblake.co.uk and www.worldofchatterton.com.
With thanks to Firefly Press for sending me this book to review.
It's Ella's first day at her new school and she wants to find a friend. But it's really hard. The girls aren't interested in her and she doesn't have the courage to just join in … When she finds a book about making friends Ella decides to try out the tips it recommends. With five excellent ideas up her sleeve, Ella will be friends with the girls in no time … Right?
Five Ways to Make a Friend by Gillian Cross illustrated by Sarah Horne brings to life a touching tale of friendship and the challenges of starting a new school.  Readers will identify with Ella, a sweet girl, desperate to make new friends but not seeing the real like-minded soul right in front of her.  Ella's trial and error approach is captured in lively illustrations and you can't help but cheer as she finally understands she has indeed made a new friend without even realising!
Gillian Cross is an award-winning author best known for the Demon Headmaster series.  Sarah Horne is a regular illustrator of children's books, with a fun and funky illustrating style. Find out more at www.gillian-cross.co.uk and www.thescribblegirl.wordpress.com
 With thanks to Barrington Stoke for sending me this book to review.
Middle Grade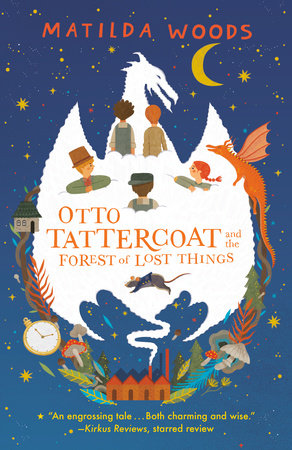 Otto lives in the frozen city of Hodeldorf, gripped by eternal winter. When his mother goes missing one icy morning, Otto vows to find her – joining forces with the Tattercoats, a gang of brave orphans. Now they must journey into a dark forest on a heart-racing adventure that will chill you to the bone. Witches lurk. Sun dragons lie sleeping. Endless winter shivers. Will you enter the lost forest – or would you rather stay safe at home?
Otto Tattercoat and the Forest of Lost Things by Matilda Woods is set in a wintry landscape, with all sorts of magical people and creatures ready to delight the imagination. Middle-grade readers will love exploring the Forest of Lost things, as Otto goes in search of his mother, closely followed by his fellow Tattercoats, Nim and Blink. Adventure awaits, reminiscent of classic fairytales and Narnian magic, with enchanting characters – both good and bad – to keep readers hooked.   A wonderful story and magical place to escape to!
Matilda Woods is both a writer and a youth social worker, based in Australia. Her previous books, The Boy the Bird and the Coffin Maker and The Girl The Cat and the Navigator. Find out more www.matildawoods.com.
With thanks to Scholastic for sending me this book to review.
Demelza loves science – she loves it so much that she stays up late to work on her inventions. But she soon discovers she's also inherited a distinctly unscientific skill: Spectre Detecting. Like her grandmother, she can summon the ghosts of the dead. When Grandma Maeve is kidnapped, Demelza and her pasty-faced best friend, Percy, must leap into action to solve the deadly mystery …
Demelza and the Spectre Detectors by Holly Rivers is the first in a fantastically spooky and scientific series which will spark the imaginations of all who read it.  Demelza is a feisty and fun character, who adores inventions and finds out she has inherited her beloved Grandma Maeve's talent as a Spectre Dectector.  The supernatural meets science as Demelza learns more about her new talent. An original idea and a fresh take on grief and losing those you love, alongside a bundle of mystery and mayhem make for a thoroughly engaging read!
Holly Rivers is famously known for playing Drusilla Paddock in ITV's original Worst Witch series. She now concentrates on writing, travelling and leading creative workshops for children. Follow Holly on Twitter @HollyRivers_Lit
With thanks to Chicken House for sending me this book to review.
Liberty Johansen is going to change the way we look at the night sky. Most people see the old constellations, the things they've been told to see. But Liberty sees new patterns, pictures, and possibilities. She's an exception. Some other exceptions: Her dad, who gave her the stars. Who moved out months ago and hasn't talked to her since. Her mom, who's happier since he left, even though everyone thinks she should be sad and lonely. And her sister, who won't go outside their house. Liberty feels like her whole world is falling from space. Can she map a new life for herself and her family before they spin too far out of reach?
The Year We Fell From Space by Amy Sarig King focuses on a family going through divorce and depression and is both funny and sad.  These issues affect many children and this story is sensitively written and hugely insightful, capturing the reality of family breakdown alongside everyday teen existence.  In Liberty, we see the fallout of divorce and its impact on all her relationships. But also we see the importance and empowerment of seeking help and speaking about how you are feeling. She is a compelling character and empathy for her grows with each page. There is no cure for divorce, and it hurts; but there is hope for healing – it just takes time.  A well-written story which will stay with you long after the final page.
Amy Sarig King has written many critically acclaimed and prize winning young adult novels. Find out more at www.as-king.com
With thanks to Scholastic for sending me this book to review.
Find out more about World Book Day at www.worldbookday.com